Hi,
So I'll get straight to it:
When I record something and zoom in on something, it looks like this:

But in reality it's supposed to look like this: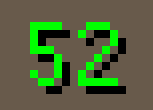 So as you can see, the colors are saturated and they kind of "spread out".
Is there any way I could get the recording to look like the bottom image (what it should look like in reality)
I play and record a 800x500 resolution game (pretty small) so these small details make a
huge
difference.
I've tried tweaking with pretty much every settings I could find.
Every single codec I try with whatever settings yield me the problem mentioned above.
Any help would be greatly appreciated.
Thanks!